We start the trip in only about 6 1/2 hours!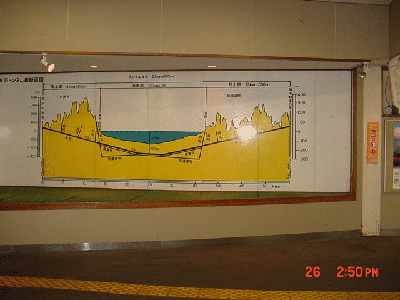 there is a train tunnel about 40 miles long under the ocean between honshu, Japan's big island, and hokkaido, the north Island. Hiromi and I have been through the tunnel four times. This time, though, we will take an 18 hour ferry ride from Niigata, on the Japan sea side of Honshu to Otaru, in hokkaido!
We are back in Fujisawa this evening long enough to pack, get a little rest, and tomorrow at 3am (THREE AM???), we are off and running on our much anticipated trip. Today was hot and muggy, Hokkaido is kkkool and refreshing. Hiromi came back from Kiryu, Gunma ken, this morning to meet me at Don and Evelyn Duplessis's church, in Sagamino. After a great service and afterwards great fellowship and lunch at the Outback! Just like in the USA, almost. The church has people from nine different nations...our Hokkaido trip now has representatives from eight nations, we just added Tanzania, East Africa!
Hiromi has been working on the website, getting everything in order, so that we can add something quickly as it happens. THE PICTURES WILL BE GOING UP AND DOWN RATHER QUICKLY, SO IF YOU WANT TO SAVE ANY OF THEM, YOU'LL HAVE TO DO IT QUICKLY. Check the itinerary, and get a map out of the old dusty atlas so you can follow our progress. We appreciate your prayers for a safe and successful journey. Keep checking the website, as it is in an almost constant state of flux! http://zingchurch.com
Love, John and Hiromi